Most consumers are not looking for new auto insurance carriers yet

Canva
Most consumers are not looking for new auto insurance carriers yet
Cars sit in traffic on a highway.
Experian surveyed 1,045 Americans who currently have auto insurance in their name. Survey conducted July 7, 2023. The sample was collected using a third-party company and was not from Experian's consumer credit database.
Auto insurance isn't the most fun way to spend your money, but it's a big part of most household budgets. Insurance premiums represent 2.5% of a typical household's annual expenditures—about as much as gets spent on electricity or clothing in a year. With expenses like this, finding savings can make a big difference in one's finances.
Experian surveyed more than 1,000 insured drivers in July 2023 to learn how they're managing auto insurance premiums in an inflationary environment. Different sampling parameters may generate different findings compared with other similar analyses.
---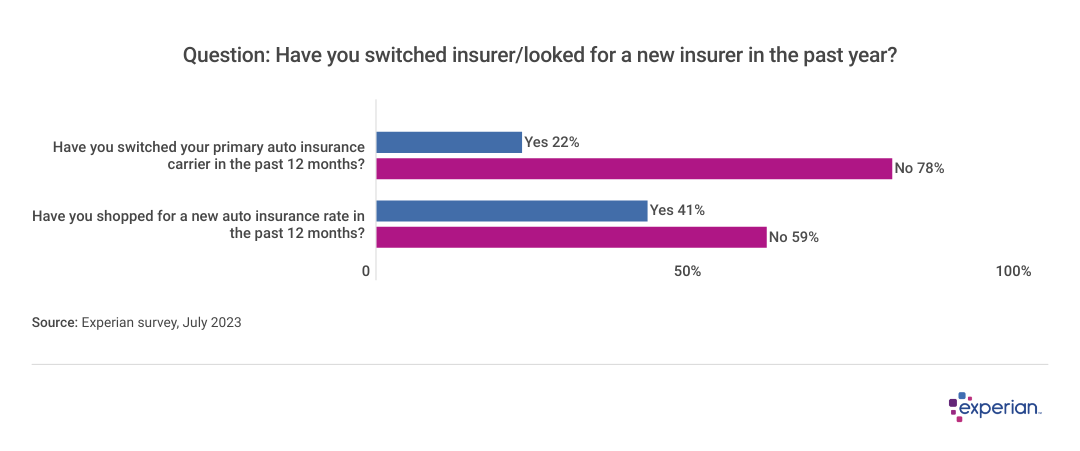 Experian
Despite lower inflation in much of the economy, auto insurance inflation is on the march
A bar chart showing that 78% of respondents did not switch car insurance.
Auto insurance premiums didn't increase as much or as quickly as car prices when Americans returned to the road in 2021. But when price hikes started, they more than made up for lost time.
Auto insurance premiums increased by 17% over the past year, according to data from the Bureau of Labor Statistics (BLS). That's far more than the increase in car prices, new or used, at any time since 2020. Indeed, used car prices are lower than they were 12 months ago, according to the same data from the BLS. The latest inflation numbers, from June 2023, put the rate of overall inflation at just 3%.
But despite the rate hikes, most drivers aren't switching to a new insurer, or even looking for one, according to an Experian survey conducted in July 2023. About 4 in 5 drivers (78%) stuck with their existing insurance carrier in the past 12 months. Moreover, 59% haven't explored the deals they may get from competing insurers.
However, it seems most drivers could have benefited from at least looking for a lower premium, as more consumers said their vehicle premium increased in the past six months than remained unchanged or was lower than their previous premium.
---


Experian
What might be driving auto insurance premium changes?
Bar chart showing that 52% saw their car insurance rates go up.
Those households with income greater than $150,000 annually were most likely to report an increase in their auto insurance premiums as 64% reported an increase in their most recent auto premium. Contrast that with 47% of households with incomes under $100,000 reporting an increase.
Part of that difference may lie with the increased popularity of electric vehicles among those in higher tax brackets. Higher-income households are early adopters of electric vehicles; however, electric cars cost roughly 25% more to insure, on average, than fuel combustion rides.
Finally, we asked drivers if they moved in the past year, as moving generally results in a change in rates. Location is a primary factor in premium calculations, and may necessitate a change in insurance carriers since not all insurers cover drivers from every state. However, survey respondents indicated that moving made little or no difference in whether they looked for new or cheaper insurance.
---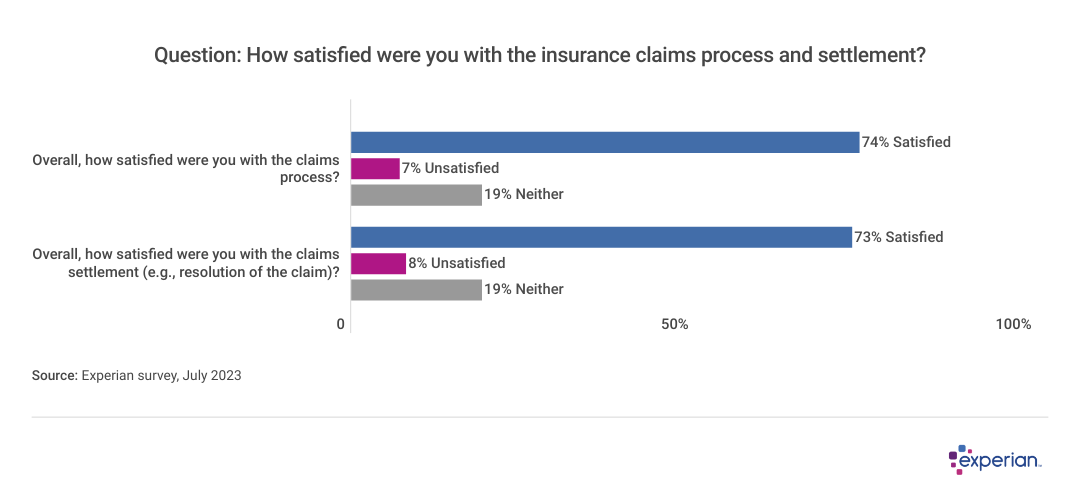 Experian
Claims, pain and automobiles
Bar chart showing that more than 70% of respondents are satisfied with their car insurance.
Nearly 20% of the drivers Experian surveyed indicated they made at least one claim in the past 12 months. For most claimants, the experience was a positive one: Close to three-quarters reported they were satisfied with both the claims process as well as the settlement they received.
However, as many as 8% weren't satisfied, either with the claims process or the settlement they received. Claims were settled in a timely fashion, according to most respondents. Regardless of satisfaction, most claims were settled in three weeks or less, according to those who made a claim in the past year.
A switch in time
Although comparison shopping won't always result in premium savings for consumers, there's only one way to find out—even though most drivers haven't recently bothered. However, there's reason to suspect that may change in the upcoming year.
Inflation is coming down, finally, for most goods and services. The stark rise of auto insurance premiums will soon become more conspicuous among consumers as one of the few remaining items increasing at double-digit rates in 2023 and beyond. Since auto premiums already cost consumers an average of $2,100 annually, according to Experian data, one might expect increased scrutiny of premium prices, instead of resignation.
This story was produced by Experian and reviewed and distributed by Stacker Media.
---