American consumers drive a rapid expansion of contactless payments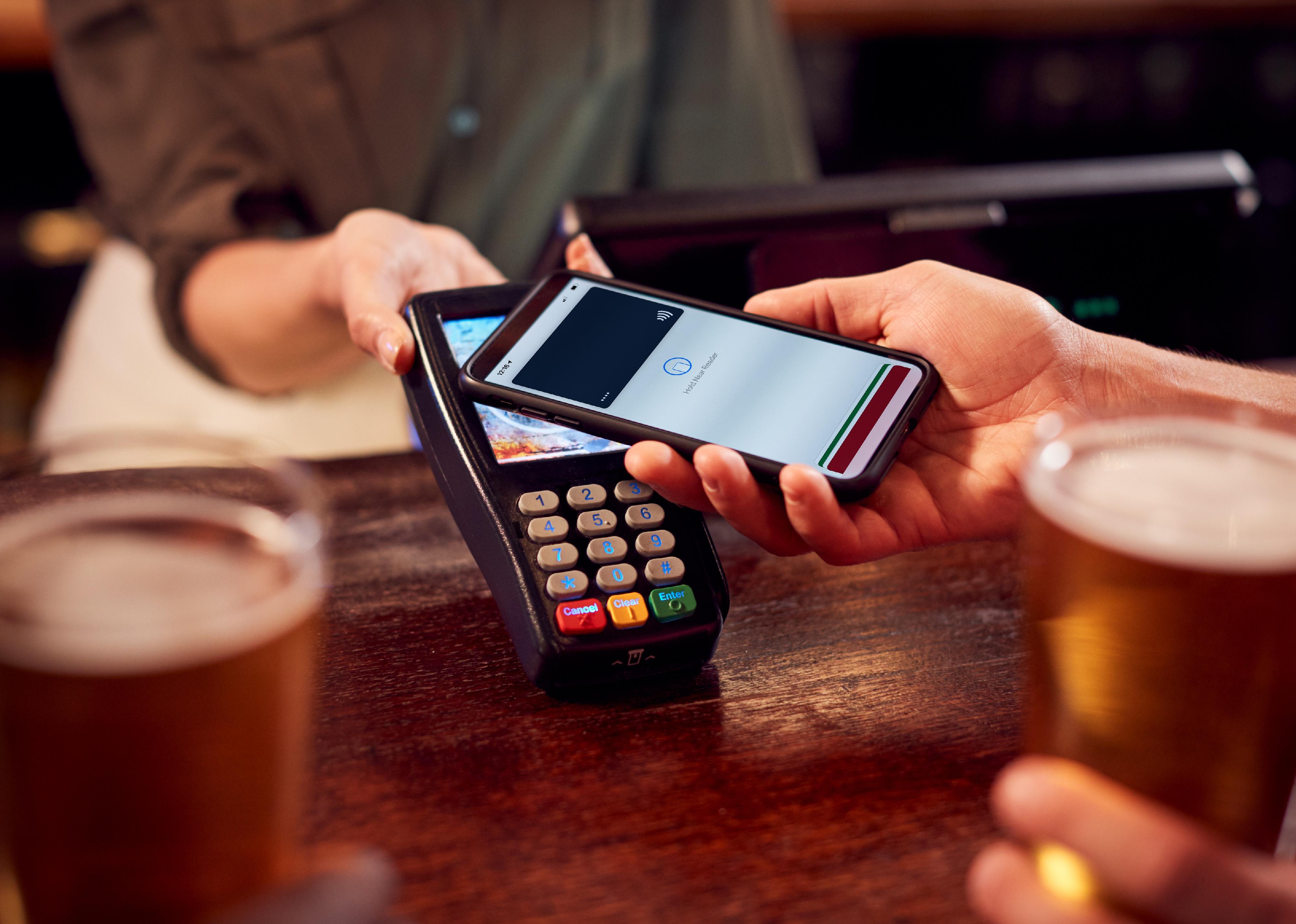 Monkey Business Images // Shutterstock
American consumers drive a rapid expansion of contactless payments
Close-up of a man paying at a bar using contactless app.
A small-town pizzeria. Your favorite corner bistro. Even Girl Scouts selling cookies outside the grocery store. Not long ago, all these locations would have required credit card swipes—or even just cash—to check out. Now, they are all examples of places that may accept tap-to-pay from digital wallets and contactless credit cards.
Tap payments have grown quickly over the past couple of years, with digital wallet prevalence and COVID-19 precautions driving much of the adoption. Task Group analyzed news coverage, industry reports, and Federal Reserve data to dive deeper into the growing phenomenon of contactless card payments.
In its latest financial update, leading credit and debit card provider Visa said about 1 in 3 in-person card transactions in the U.S. utilized tap-to-pay. That's up about sevenfold from three years ago. Competitor Mastercard said contactless payments comprise about 58% of its in-person transactions globally.
Contactless payment options are now available in more and more retail and food service establishments across the country, and customers are using them more often to pay for a bag of chips or dinner for 10. In June, PayPal launched tap-to-pay for Venmo business users on Android devices and for PayPal Zettle users, further expanding the technology's reach to the nation's smallest enterprises. In New York City and Chicago, transit riders can tap-to-pay for their fares.
Contactless payment methods require customers to hold their device—usually a smartphone—or credit card near the reader, rather than swipe or insert it. This transaction happens via short-distance radio waves. During this transmission, contactless payments' data is encrypted, making them difficult to hack and transactions more secure than with easily cloned magnetic-stripe swiping cards. Plus, there are fewer germs spread, as in most cases the card doesn't need to make full contact with the reader.
Other than contactless credit cards, digital wallets like Apple Pay, Google Pay, and Samsung Pay allow contactless payments. About 9 in 10 Americans said they use some form of digital payment, and more than two-thirds think they will have at least one digital wallet within the next couple of years, according to a 2022 McKinsey survey.
While convenience and consolidation were important for current and future digital wallet users, more McKinsey survey respondents were excited about the opportunity they pose for store loyalty rewards.
---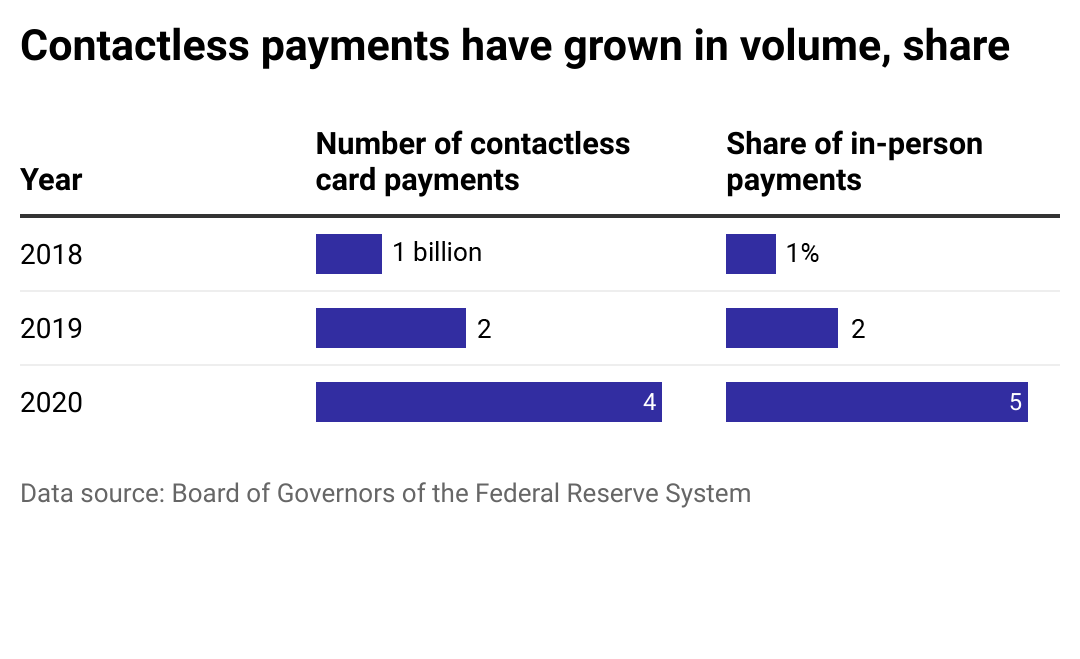 Task Group
COVID-19 drives surge in contactless payments
A table-bar chart showing the number of contactless card payments in 2018, 2019, and 2020, and the share of in-person transactions that were made with a contactless payment.
Federal Reserve data is more comprehensive than those of credit card providers but has a slight reporting delay. Its estimates show that contactless card payments grew more than fivefold from 2018 to 2020—when COVID-19 precautions ramped up throughout the U.S. Much of that growth happened in 2020, despite a decline in overall in-person card payments as fewer people ventured outside to make purchases.
Contactless payments were especially popular from July through September of 2020 when restrictions began to lift in some areas. The relatively novel offering to U.S. consumers limited germ spread as people ventured out of their quarantine bubbles. Some stores rolled out contactless payments specifically in response to the pandemic.
As card payments overall declined but contactless grew, the payment method also grew its share of in-person payments by 3.8 percentage points, reaching nearly six times its original share.
While U.S. contactless payment adoption is growing, it still trails much of the world. Mobile wallets have been gaining traction for a decade in Asia and for a few years elsewhere. Visa tap payments outside the U.S. have reached nearly 3 in 4 in-person transactions. These days, many non-U.S. establishments will only accept tap payments and have used contactless as a default for years. Riding the tail winds of the pandemic, the U.S. may reach that level of near-ubiquity soon.
Data reporting by Paxtyn Merten. Story editing by Jeff Inglis. Copy editing by Tim Bruns. Photo selection by Clarese Moller.
This story originally appeared on Task Group and was produced and
distributed in partnership with Stacker Studio.
---