Missouri House lawmakers push for Medicaid fixes
JEFFERSON CITY, Mo. (KMIZ) -
Missouri lawmakers advanced a bill Monday that would streamline the application process for enrollment in Medicaid and other public assistance programs.
The vote to move House Bill 1960 forward happened in the House General Laws committee less than an hour after Democrats held a press conference in which they praised the bill and called for other Medicaid reforms.
The House Democratic Caucus talked about what they called a bipartisan movement to re-enroll more than 100,000 children in Medicaid after they lost their access within the last year.
Rep. Mary Elizabeth Coleman, R-Arnold, filed House Bill 1960. If passed it would "limit the application form for SNAP, TANF, child care assistance, or MO HealthNet to a one-page form that is easily accessible on the Department of Social Services' website," according to the summary.
"There can be no doubt at this point that tens of thousands of Missouri children wrongly lost their health care access, often without warning or explanation," said House Minority Leader Crystal Quade, D-Springfield. "With key Republican lawmakers willing to acknowledge the crisis and look for solutions, we have a strong shot at achieving a resolution to ensure Missouri children receive the medical care they deserve."
Information compiled by Washington University from Missouri HealthNet data shows a nearly 15 percent decline in child enrollment between January 2018 and June 2019.
var divElement = document.getElementById('viz1581983927270'); var vizElement = divElement.getElementsByTagName('object')[0]; vizElement.style.width='700px';vizElement.style.height='727px'; var scriptElement = document.createElement('script'); scriptElement.src = 'https://public.tableau.com/javascripts/api/viz_v1.js'; vizElement.parentNode.insertBefore(scriptElement, vizElement);
A 2019 study by Georgetown University showed Missouri saw the biggest swell of uninsured children in the country, with more than 100,000 losing coverage between January 2018 and December 2019.
A map included in the study shows Missouri among the states with an uninsured rate higher than the national average.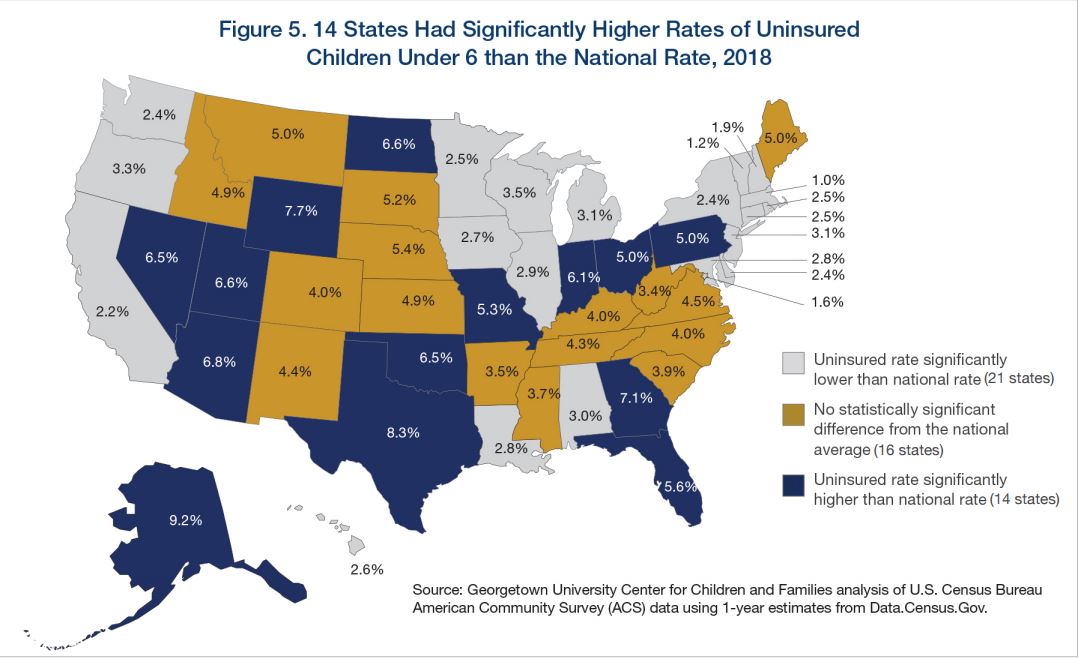 Missouri HealthNet data shows a 15 percent decline in Boone and Cole Counties and an 18 percent statewide decline.
| | | | |
| --- | --- | --- | --- |
| | Jan 2018 | Dec. 2019 | % change |
| Cole County | 6513 | 5545 | 15% |
| Boone County | 12618 | 10904 | 15% |
| Missouri | 598037 | 490440 | 18% |
Democrats also discussed some legislation filed by the minority party that they hope will alleviate the problem.
Missouri HealthNet offices were closed Monday in observance of President's Day and hence did not reply to a request for comment.