WEDNESDAY UPDATES: State of Missouri canceling Thursday COVID drive-through testing events
The State of Missouri is canceling drive-through COVID testing events across the state due to extremely cold temperatures in the next 24 hours
Extreme cold can present dangerous environments for staff working these outdoor events and also causes technology to malfunction
Those with appointments for Jan. 20 at the St. Charles Family Area and the STL Urban League sites are being communicated with directly regarding an alternative testing option.
Boone County reports the tenth straight day of over 340 new coronavirus cases
The Columbia/Boone County Department of Public Health and Human Services reported 354 new COVID-19 cases for Wednesday. The dashboard reports that 37 of the new cases were between the ages of 18 and 22 during the holiday weekend.
Over 51% of the new cases (182) are under the age of 30 with the largest age group being 10-19 (67 cases).
There are currently 3,298 active cases in the county and 35,590 cases since the pandemic began.
The county reported 32,098 cases removed from isolation.
Boone County ranks fourth in the state with the most coronavirus cases in total volume in the past week and is first when sorted by cases per 100,000. Cases are up 42.1% when comparing last week to the prior week. The county has a 37.1% positivity test rate, according to the Missouri Department of Health and Senior Services (DHSS).
The health department's hospital status is yellow with 167 COVID-19 patients in Boone County hospitals and 12 of them being Boone County residents. Of the 167 patients, 34 are in intensive care and 20 are on ventilators.
The Missouri coronavirus vaccine dashboard reports that 116,832 residents have received their first dose in Boone County and 103,316 Boone County residents have completed their vaccine doses.
Boone County has the third-largest percentage of county residents in Missouri that have received at least one dose of the vaccine with 64.7%. The largest county in the state is St. Louis County with 69.1%.
Boone County is third in the state with a reported 57.3% of residents that have completed their coronavirus vaccine doses. St. Louis County is the first county in the state with 60.8% of residents having completed the doses for vaccination. The city of Joplin has 61.6% of the population fully vaccinated.
Cole County has the second-highest first vaccination rate in Mid-Missouri with 54.8%. Callaway County is third with 50.8%.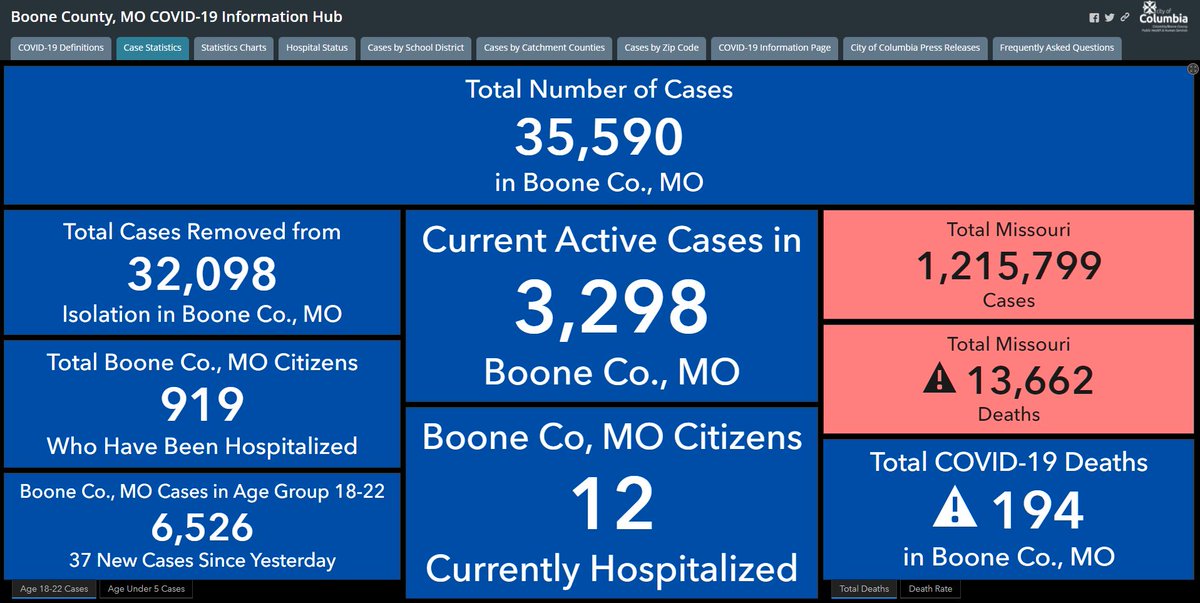 The Columbia Public Schools reports active coronavirus and quarantine cases to their website daily.
The district reported a 285.3 14-day rate per 10,000 for Tuesday. The highest the rate has been.
CPS reports 33 district facilities (17 elementary schools, all seven middle schools, three high schools and six other district-wide facilities) currently have staff out because of COVID-19.
The district is reporting 84 coronavirus cases in staff across the district. The breakdown in staff shows 40 staff members at an elementary school, 19 staff members at middle schools, 20 staff members at high schools and five staff members at district-wide facilities who have tested positive for COVID-19. Three staff members at elementary school and one staff member at a district-wide facility have to quarantine due to being in close contact.
The district reports 33 district facilities to have students currently out due to the coronavirus. The district is reporting 21 of the elementary schools, six of the seven middle schools, all four high schools and two district-wide facilities are affected.
There are 236 students that have tested positive for COVID-19. The district is reporting 120 students in elementary, 58 students in middle school, 52 students in high school and six students in a district-wide facility have tested positive for the coronavirus.
There are 67 students who are required to quarantine due to the coronavirus. The district reports 12 elementary students are currently quarantining, seven students in middle school, four students in high school and 44 students at district-wide facilities.
Cole County reports 592 new cases; backlog cause in reporting spike
The Cole County Health Department reported 592 new coronavirus cases Wednesday.
According to the dashboard update, there are 14,792 residential cases and 312 long-term care facility resident cases. That is 15,104 total cases in the county.
"Because of a reporting issue with a local healthcare system that resulted in a backlog of data, the Cole County Health Department anticipates receiving a large number of positive COVID-19 cases over the next few days from MO Department of Health and Senior Services. The positive cases date back to the first part of December," said Kristi Campbell, director of Cole County Health Department.
Cole County has reported 175 coronavirus deaths since the pandemic began.
Cole County ranks second in the state for counties with the most coronavirus cases per 100,000 in the past week. Cases are up 43.4% when comparing last week to the prior week. The county has reported a 37.8% positivity test rate, according to the Missouri Department of Health and Senior Services.
The Missouri coronavirus vaccine dashboard reports about 54.8% of the county have initiated their first dose of the vaccine and 50.5% of the county's population have been fully vaccinated.
The Jefferson City School District reported 23 new coronavirus cases in students and six new coronavirus cases in staff members Tuesday.
The district is reporting 68 active cases in students and 26 active cases in staff.
The district is reporting 169 close contacts for students and 25 close contacts for staff.
State of Missouri reports over 10,000 new coronavirus cases; new cases continue to trend downward
The state of Missouri reported 14,242 new and probable coronavirus cases for Wednesday.
The state of Missouri's daily average of new coronavirus cases has gone back up to an 8,928 seven-day average (62,496 confirmed cases from the previous week of reporting) as the state reports new coronavirus cases across the state according to state health department reporting. The daily average looks at the last seven days and doesn't account for the past three days, which will push that number even higher.
The state reported 10,828 new coronavirus cases through PCR testing and another 3,414 probable cases identified in antigen testing from Friday, according to the Missouri Department of Health and Senior Services coronavirus dashboard. Missouri has now reported 984,983 confirmed cases for the pandemic and more than 235,031 probable cases.
The state recorded 127 new deaths for 13,535 total and 24 probable death was added for a total of 3,106.
Missouri's new cases are down .2% over the past week, the state reports, as recent cases surge nationwide.
The rate of positive tests is 34.2% for the last week. A higher positivity suggests higher transmission and that there are likely more people with coronavirus in the community who haven't been tested yet.
Boone (1), Cole (2), Callaway (3), Pettis (11), Miller (14), Osage (25) and Saline (38) counties are all in the top 40 Missouri counties in cases per capita over the last week, according to state statistics.
The state reports that 5.21% (a .41% increase from last) of vaccinated Missourians have developed COVID-19 infections. The state reported 13,941 breakthrough infections. The state is reporting 175,169 breakthrough cases out of 3,359,841 fully vaccinated people. The state has reported 963 breakthrough deaths.
Experts continue to tout vaccination as the best tool to fight the wave of new cases.
Still, new vaccinations have effectively stalled in Missouri, with more boosters being given daily than first or second shots. The state reported Thursday that 54.7% of Missouri residents are fully vaccinated.
COVID-19 hospitalizations are also trending upward, with the state reporting 20% of total inpatient capacity and 17% of ICU capacity remaining. Those numbers are at 30% and 32% in Central Missouri, respectively. The state has reported a record number of hospitalizations with 3,629 patients. There are currently 698 patients in Missouri ICUs.
Moberly School District to close Thursday and Friday because of sick staff
The Moberly School District says it will have to close Thursday and Friday because too many staff members are sick.
"Due to staff illness/shortage, Moberly Public Schools will be closed January 20-21 (tomorrow and Friday)," the district said in a message posted Wednesday on its website. "This will allow for a deep cleaning of buildings and also provide staff and students time to get well."
Breakfast and lunch will be available and can be picked up between 1 and 2 p.m. Thursday at Moberly High School but must be ordered in advance, the district said. Extracurricular activities will continue as long as there are enough students and staff for them, according to the message.
Moberly School District reported 89 active coronavirus cases among students and staff Wednesday.
The district is the latest of many in Mid-Missouri to close schools or reimpose mask mandates because of the wide spread of the omicron variant. The Southern Boone Board of Education voted to change its coronavirus plan Tuesday after the number of cases pushed some schools into the "red" level of the district's COVID-19 plan, meaning students and staff would have to wear masks. The board voted to remove the mask requirement.
Jefferson City School District called a "snow day" for Friday to allow students and staff time to recover and Columbia Public Schools will be out Friday, Monday and Tuesday for the same reason. Both districts required students to start wearing masks this week, prompting renewed legal threats from Republican Attorney General Eric Schmitt.
Boonville schools will be online-only Thursday and Friday, and potentially Monday and Tuesday, because of too many staff illnesses.
The omicron surge has broken records for new cases and hospitalizations across the state, including in Mid-Missouri. Boone, Cole and Callaway counties are Nos. 1, 2 and 3, respectively, for most cases per capita in the state over the last week, according to the state health department.