Home mortgage rates are hovering around 7%—here are 3 steps to still afford a home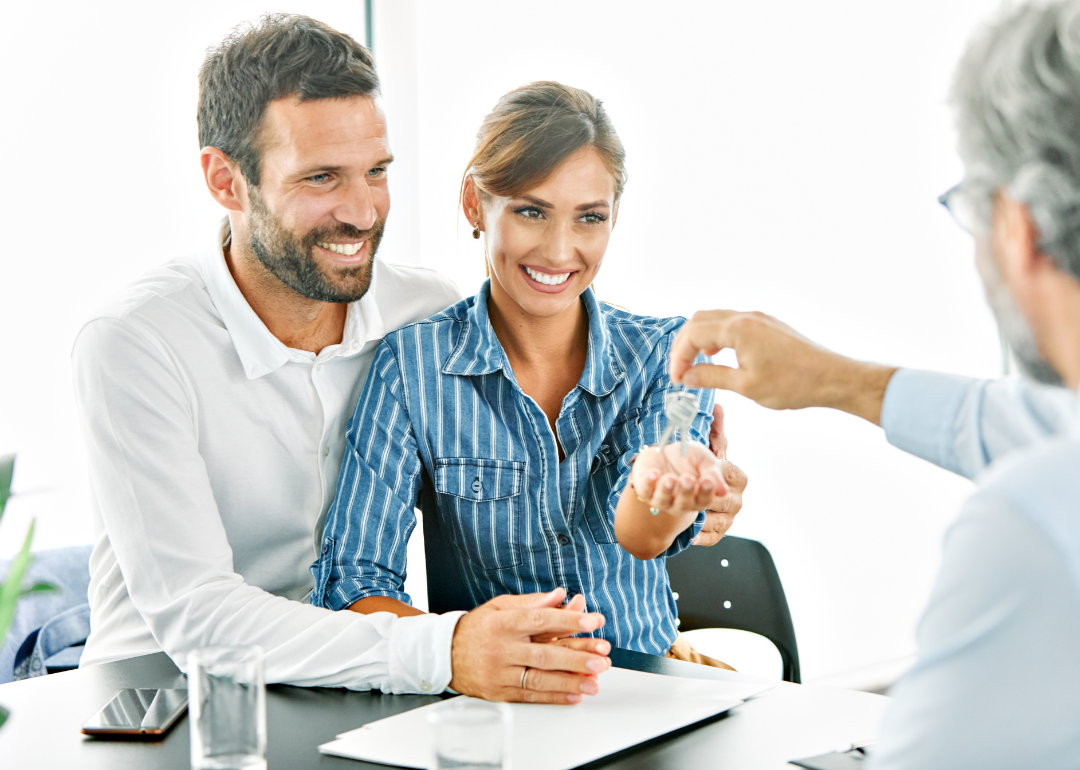 Canva
Home mortgage rates are hovering around 7%—here are 3 steps to still afford a home
Young couple being handed keys to their new home.
It's no secret that things are considerably more expensive now than decades past — and that includes mortgages.
But it turns out more Gen Z currently own homes than Gen X and millennials did at the same age.
In fact, 30% of 25-year-olds owned their home in 2022, compared to 27% Gen X and 28% of millennials when they were 25, according to an April report from Redfin.
Boomers — to no one's surprise — surpassed all generations at 32%.
"The rising tide lifted Gen Z homebuyers in 2020 and 2021; they were part of the pandemic-driven home buying frenzy," Redfin Chief Economist Daryl Fairweather said in a news release.
"Record-low mortgage rates, remote work providing freedom to move somewhere more affordable and skyrocketing rental costs motivated some Gen Zers to break into the housing market."
A Moneywise analysis finds that those who didn't take advantage of 3% interest rates during that time face much larger hurdles today, but the goal of homeownership is still achievable.
How Gen Z homeowners today stack up to their parents' generation
Gen Z homeowners also spent the same fraction of their income on housing in 2021 compared to homeowners three decades earlier according to Redfin.
A 25-year-old's median monthly mortgage payment was $1,013 in 2021, equating to 16% of their $74,900 median income, the report says. In comparison, a 25-year-old in 1990 spent a median $904 each month — or 16% of their $69,419 median income (adjusted for inflation).
However, the typical mortgage rate for homebuyers under 25 with a conventional loan was 3.3% in 2020 and 3.1% in 2021.
A 25-year-old buying a home this year will probably spend significantly more of their income on their mortgage bill seeing as rates are currently well over 6%.
The average 30-year fixed mortgage rate hit 7.08% on July 5, according to a July report from Redfin, and rates have been hovering around 6.7% since the beginning of June.
Fairweather says young Americans are now in a "haves versus have-nots situation" as those who have not purchased yet are contending with "an uphill battle, with elevated home prices, monthly mortgage payments at a record high and no home equity."
It might be more difficult, but it's still possible for Gen Z to buy. Here are steps young people can take toward owning a home.
1. Fix your credit score
While current mortgage rates remain double what they were in 2020 and 2021, you could qualify for a more affordable rate if you have good credit.
You'll typically need a score of 620 or more to qualify for a conventional loan, but applicants with scores of 740 or above often get the lowest interest rates.
Check your credit score for free with your bank or an online provider and take the necessary steps to boost it up. This includes paying all your bills in full and on time and clearing up your debt load.
2. Build your savings
You're going to need to sort out how big a home you can afford and create a realistic plan to pay for it.
Start setting some funds aside each month to help with your future down payment and closing costs, and consider growing them in a high-yield savings account or through your investments.
For a conventional loan, the minimum down payment is usually 5% of the purchase price, but experts recommend putting at least 20% down to lower your monthly mortgage bill.
3. Shop different lenders
Lastly, don't settle for the first mortgage rate you come across — you could potentially save thousands of dollars over the life of your loan.
Do plenty of research and some comparison shopping to pinpoint the best rates and terms available to you.
And make sure to get a preapproval from a lender as well — this could lead to more negotiating power with a seller or real estate agent.
This story was produced by Moneywise and reviewed and distributed by Stacker Media.
---