How to save with car insurance discounts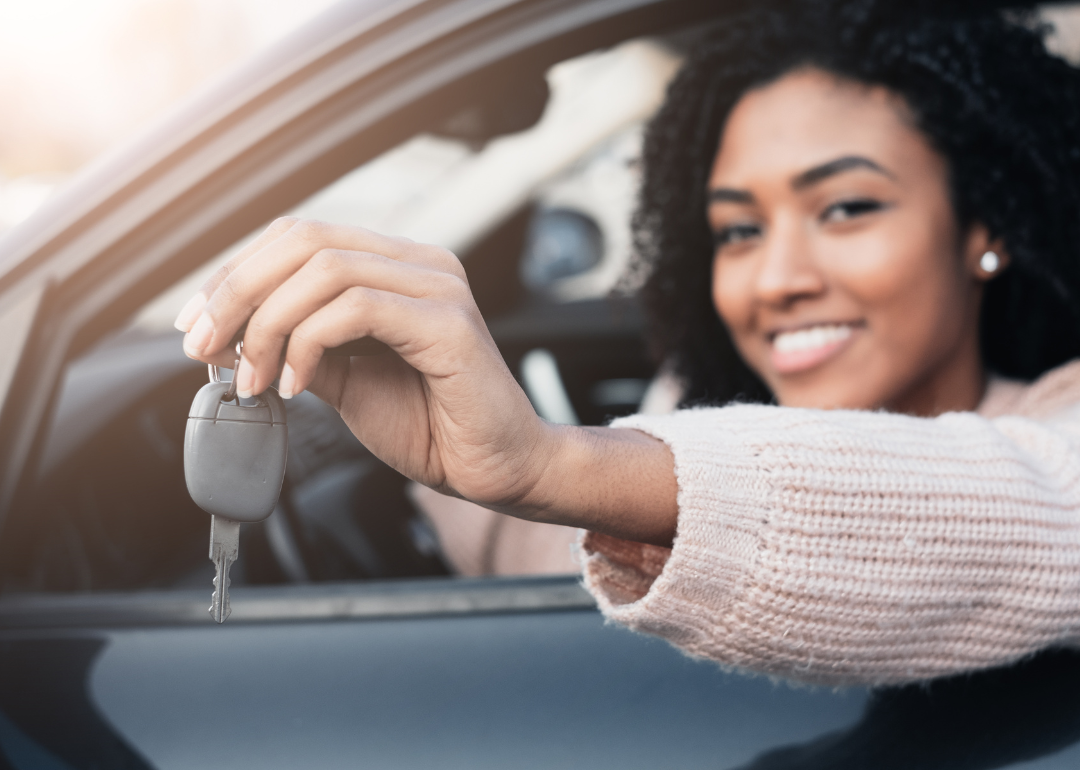 Canva
How to save with car insurance discounts
Woman holding up car key while inside car.
Insurers offer various discounts to help lower your premiums.
It's no secret that owning a car these days is expensive. From rising fuel prices to regular maintenance, the costs of owning a vehicle quickly add up. Auto insurance is a significant part of car ownership costs, but saving opportunities can help make it a more manageable expense.
Many insurers offer car insurance discounts to help drivers save on their premiums. Automoblog prepared this in-depth guide about the different kinds of auto insurance discounts that are available and what you can do to take advantage of them. We've also reviewed the best car insurance companies to help you find affordable coverage that fits your needs.
What are Car Insurance Discounts?
Car insurance discounts are price breaks for policyholders who meet specific criteria. By offering these discounts, insurers hope to encourage drivers to take actions that will make them less risky to insure. In turn, this helps keep premiums down for everyone by reducing the number of claims filed.
Discounts are crucial, especially with how high auto insurance rates can get. Insurance companies consider a range of factors to determine your rates, including your vehicle's make and model, your driving history, your ZIP code, your age and your credit score, among others. While not all of these factors are in your control, looking for discount opportunities you can take advantage of can help you find more affordable coverage.
Insurance firms typically categorize discounts into three categories: safe driving, vehicle safety features and your policy.
Safe Driving Discounts
One of the most common ways to get a discount on your premium is by driving safely. Here are some typical discounts in this category that reward safe driving habits and what you need to do to take advantage of them:
Safe driver discounts are offered by many insurance companies to encourage drivers to avoid accidents and traffic violations. To qualify for the discount, drivers must maintain a clean driving record for a set period, like three years, for example. 
The size of the discount can vary depending on the insurer, but it typically ranges from about 10% to 30% of the driver's premium. Responsible behaviors behind the wheel can present significant savings for drivers who qualify.
Defensive driving courses help drivers improve their skills to make the roads safer for everyone. Insurers reward drivers who take these courses as it lowers their risk of receiving a violation or getting into an accident. Defensive driving course discounts typically range from 5% to 10% off your auto policy.
To qualify for the discount, policyholders must provide proof of completion of a defensive driving course approved by the insurer. For many, the benefit of taking a defensive driving course outweighs the cost, as it can improve their safety on the road and save them money on their insurance premiums.
This car insurance discount is typically offered to those who drive less than a certain number of miles per year. The exact mileage that qualifies for the discount varies by insurance company, but it's typically between 7,500 and 10,000.
To receive the discount, drivers must provide proof of their annual mileage, such as a recent odometer reading or a statement from their employer. Whether you are a retiree, work primarily from home, or use public transportation for your commute, you may be able to take advantage of this discount if you don't drive frequently.
Vehicle Safety Features Discounts
Another way to get a discount on your insurance policy is by having certain safety features installed in your vehicle. These can include anything from anti-theft devices to daytime running lights and specific types of airbags. Whether to protect you in the case of an accident or protect against your vehicle being stolen, these features lower your chances of filing a claim. Here are some common discounts in this category:
Alarm System/Anti-Theft Device Discount
Most car insurance companies offer anti-theft discounts for vehicles equipped with an alarm system or other anti-theft devices. While the discount may vary from company to company, it typically ranges from 5% to 25%.
To qualify, you'll need to provide proof of the alarm system or anti-theft device to your insurance company. This can typically be done by providing a copy of the product receipt or installation invoice. However, not all devices are eligible. Check with your car insurance provider to determine if you qualify for the discount.
Some of the most common anti-theft devices car owners use are:
GPS-based equipment: This can be a simple GPS tracker or a more sophisticated system that uses GPS to disable the car if it strays too far from a particular location.
Keyless entry/immobilizer: This technology prevents your car from starting without the correct key, making it much harder for thieves to steal your vehicle.
Alarm system: A car alarm is a great way to deter thieves and alert you if someone is trying to break into your vehicle.
Steering wheel lock: A steering wheel lock is a physical device that makes it difficult for a thief to steer the car, making it near impossible for your car to get stolen.
VIN etching: This is the process of etching the vehicle's VIN (vehicle identification number) into the windows of the car. It makes it more difficult for thieves to sell stolen parts from your vehicle and can help police identify your car if it's stolen.
 
Anti-Lock Brakes
Anti-lock brake systems (ABS) are designed to help drivers maintain control of their vehicles during emergency braking situations. By preventing the wheels from locking up, ABS helps drivers avoid skidding and losing control. 
Because these systems can reduce the number and severity of accidents, many insurance companies offer a 3%-10% discount on auto insurance premiums for vehicles equipped with ABS. To qualify for the discount, drivers typically need proof that their vehicle is equipped with ABS.
If you've just purchased a new car, you may be eligible for a discount. Insurance companies often give lower rates to drivers of more recent vehicles, as they are less likely to be involved in an accident than an older vehicle.
Policyholders looking to take advantage of this discount will need to provide proof of purchase to their insurance company with a copy of the sales invoice or registration documents.
Policy Discounts
In addition to the discounts above, many insurance companies offer policy discounts that can save you money on your premium. Some of the most common policy discounts include:
This discount is available to drivers who have maintained continuous auto insurance coverage. It's often available to drivers insured by the same company for a certain period or with no lapses in their coverage. The continuous coverage discount can help lower the cost of auto insurance by 10% to 15%. The details will vary by insurer, so it's important to check with your insurance agent for more information.
Some companies offer savings for customers who sign up for coverage early. An early signing discount is usually a percentage of the total premium, and it's designed to incentivize customers to secure coverage before their current policy expires.
A full payment car insurance discount reduces your premium if you pay your entire policy premium up front. This discount can vary depending on the insurer. If you have the option and ability to pay annually, it's generally worth taking advantage of this discount. In addition to saving money, paying up front can also help you avoid any issues with late or missed payments. Plus, it's one less bill to keep track of each year.
Other Discounts That Vehicle Owners Should Know About
In addition to the discounts mentioned above, there are a few other types of car insurance discounts that drivers should be aware of. These include:
Many insurance companies offer a discount to those who have multiple policies with the same company. This can involve bundling your auto insurance policy with renters or homeowners insurance and more. Often called a multi-policy discount, it can typically save you up to 20% on your premium.
A good student discount is available to full-time students with good grades. This discount is typically available to students who are between 16 and 25 years old and maintain at least a B average.
If you have a child away at college and not driving your car, you may be eligible for a student away discount. This discount is typically available to policyholders with children who go to a school more than 100 miles from home.
If you want to insure a second car on your policy, you may be eligible for a multi-car discount. This discount is available to policyholders who insure two or more vehicles on the same policy. The multi-car discount can save you up to 25% on your premium.
A green vehicle discount is offered by insurance companies to encourage policyholders to drive eco-friendly cars. The most common form of green vehicle discount is a hybrid car discount, which is available to drivers of hybrid cars, electric cars and other fuel-efficient vehicles. While the discount may vary by insurer, it typically ranges from 5% to 10% of your premium.
These are just a few of the different types of car insurance discounts available to drivers. Be sure to ask your insurance company about your eligibility for different discount opportunities. You could save a significant amount of money on your premium by maximizing these discounts.
This story was produced by Automoblog and reviewed and distributed by Stacker Media.
---