How to manage your mental health while navigating the housing market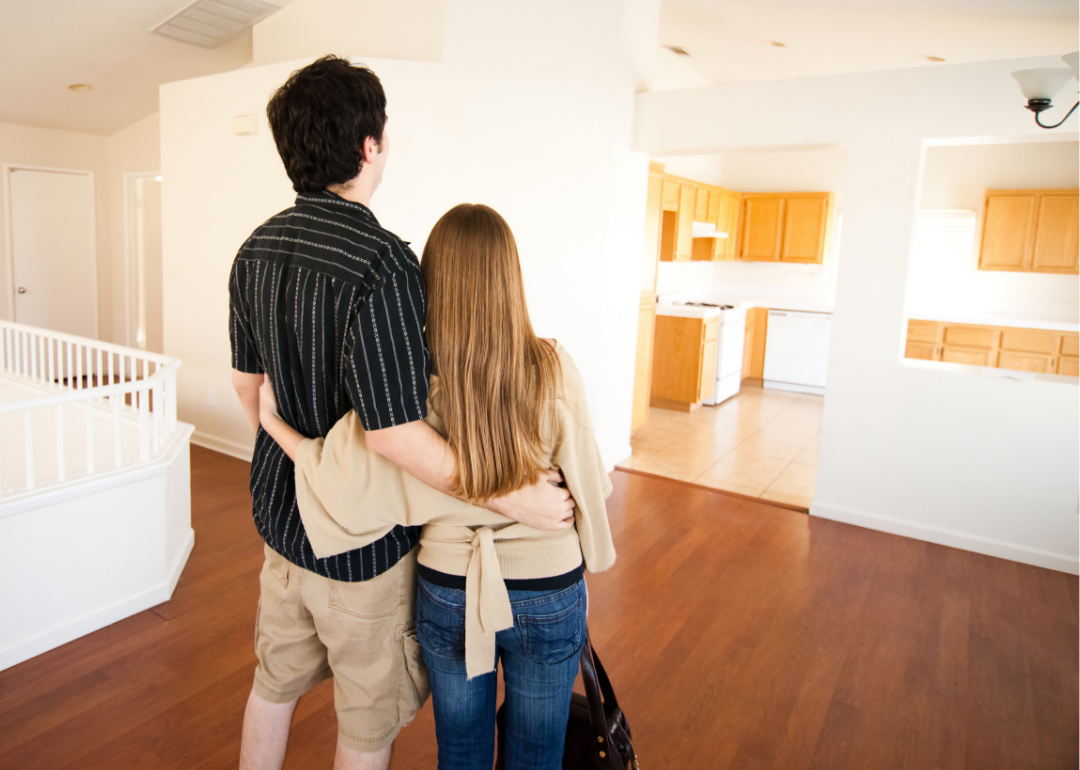 Canva
How to manage your mental health while navigating the housing market
Young couple with arms each other stand looking at empty new home.
Buying a home may be hazardous to your mental health. In fact, a survey from Realtor.com reported that 23% of homebuyers said they scheduled extra therapy sessions to deal with the stress. Given the current market, it's not surprising that buyers need therapy. If you're searching for a home in post-COVID America, you probably feel like you've stepped through the looking glass. Interest rates are soaring, prices are high, inventory is low, and high-stakes bidding wars are playing havoc with buyers' emotions.
What's the biggest culprit? Money. In a survey by Rocket Homes, 59% of prospective homebuyers named the down payment as their primary source of frustration. They followed that with high home prices and a desire to avoid debt. Younger buyers appeared especially debt-averse. The added responsibilities of home ownership also create concern, as did finding the right location to live. It's not easy to protect your mental health while finding and buying the ideal home, but it can be done. Today's Homeowner took a closer look at what it takes to keep your head in today's homebuying market.
Why Is Buying a House So Stressful?
Coping With High Prices and Low Inventory
In today's housing market, sellers hold most of the cards. Prices are high, and inventory is low. While costs have dipped in some areas of the country, they still exceed home values in pre-COVID days. Although the inventory crunch has relaxed a little in 2023, demand still vastly exceeds supply. These realities can leave hopeful buyers feeling discouraged as sellers decline their offers on house after house. Over time, discouragement can become despair and eventually progress to full-on depression. It's important not to get attached to any one home and to remember that rejection is not personal.
Choosing the Right Home
A personal residence is unlike any other investment. You probably don't have an emotional stake in your 401(k), but you do in your home. A home is where you make memories, add personal touches, start your days, and end your nights. It's where you hope to enjoy special days with your partner or a friend, and it might even be filled with the voices and laughter of children you love. The practical, emotional, and financial ramifications of choosing a home are more significant than nearly any other decision you make. Stressing about it is normal.
Agreeing With Your Partner
You may envision living among vast empty spaces and looking up at starry skies, but what if your partner is contemplating a cute cottage in the suburbs? You're not alone. In one survey, 77% of people who bought a home with their partner said they squabbled about it. Major topics of conflict included the size and style of home to buy, must-have features, the best neighborhood to buy in, and the right budget. Some pairs also sparred over the relative benefits of buying a fixer-upper. While couples purchase homes together all the time, the stress can feel agonizing. Fortunately, it's possible to make compromises and find common ground.
Working With the Wrong Agent
About 18% of buyers said finding the right real estate agent was difficult or very difficult. A mismatched agent can exponentially increase your stress, but the right agent can expand your power as a homebuyer. Is your agent unfriendly, disorganized, or unfamiliar with the neighborhoods you like? It's OK to switch agents. You need someone who knows the market, listens to your needs, and helps you bridge gaps between your ideal scenario and reality.
Finding the Down Payment
An ideal downpayment is 20% of the selling price. The median price of a home is about $363,000, according to the National Association of Realtors, and 20% of that is $72,600. For many first-time buyers, such a figure seems unattainable. Should you explore down payment assistance programs, tap into retirement savings, get a bridge loan, or ask your family to help? All of these options can feel stressful in their own way. As the market softens, though, Federal Housing Administration (FHA) buyers and others with smaller down payments may be back in the game soon.
Navigating the Mortgage Approval Process
In a normal market, the mortgage approval process takes 30 days. Often, those are stress-filled days as you search for tax forms, insurance papers, pay stubs, credit reports, and other documents. Credit disputes or incomplete paperwork can make the process drag out even longer. By understanding the process, planning early, and working on your credit, you can eliminate some of the uneasiness around the mortgage approval process. A good agent can also help alleviate your fears.
Surviving the Bidding Wars
Demand for houses is sky-high, and that means one thing — bidding wars. In certain markets around the country, an average home may receive five offers in the first two days it's on the market. When evaluating these bids, sellers aren't just looking at the money. They also want to know about contingencies, inspection requests, pre-approval status, escalation clauses, and how you plan to pay. Cash-offer bidders often have an edge over offers that are contingent on financing. Ironing out your offer with your agent can help smooth this stressful hangup.
Handling the Overlooked Costs
A home costs more than its sticker price — sometimes, a lot more. You may have to shell out money for a home appraisal, home inspection, home warranty, property taxes, loan origination fees, closing costs, and moving fees. Once inside the home, you may discover that maintenance, repairs, mortgage insurance, homeowners insurance, utilities, and homeowners association fees could exceed your budget. While owning a home is usually worth the hassle, it comes with hidden costs and stressors you need to be prepared to face.
---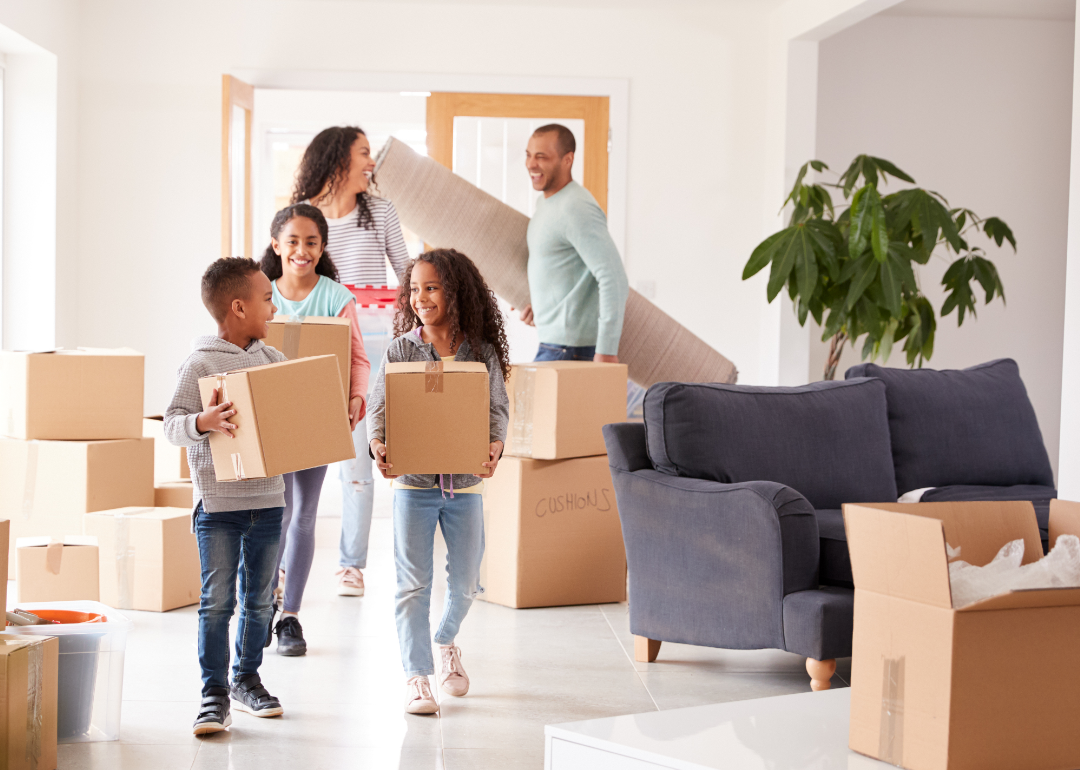 Canva
Tips to manage housing stress
Parents and three children carry boxes into their home.
If the housing market is stressing you out, it's important to know that you're not alone. Consider the following tips to help manage your housing stress:
1. Manage Expectations
High expectations are generally a way to try to control outcomes or other people. Since these factors lie outside your control, the result is moodiness and stress. Try to set reasonable expectations for yourself, your agent, the sellers, and the market at large. Also, be prepared for the homebuying process. That means knowing current mortgage rates, the pre-approval process for the loan, the market prices in your area, and your options for a downpayment.
2. Build a Strong Support System
Social support can reduce stress, eliminate dysfunction, and improve measures of happiness. Before buying a house, consider who will provide you with both practical and emotional support. On the practical side, you'll need a good real estate agent, mortgage lender, home appraiser, and insurance agent. Your emotional support system should include someone you can talk about issues with, such as your partner, a family member, your spouse, or a therapist.
3. Find a Good Real Estate Agent
Your agent is the key to your success as a homebuyer. They help you source potential homes, negotiate with sellers, and make offers. Your agent will shepherd you through the entire homebuying process, so you want them to be excellent at what they do and easy to get along with. How do you find the right agent? First, look at your personal network. Ask friends, family members, or neighbors who have recently bought or sold their homes to give you recommendations. Then, do your own research online. Look for high-rated realtors in your area. Narrow down your list to the top three and interview each one. Select your agent, and then follow their advice.
4. Be Kind to Yourself
When you are kind to yourself, you cultivate a positive self-image, which can boost self-esteem and confidence. This, in turn, can help you better cope with stress, setbacks, and difficult situations in life. So be patient with yourself, and treat yourself with the same compassion, care, and understanding you would offer to a close friend or loved one. It's OK to move slowly through the homebuying process. You don't want to move too fast. Instead, get comfortable with the process.
5. Prioritize Your Mental Health
Your mental health matters. It helps determine how you feel, what you say, and how you treat others. Don't let anything prevent you from staying fully present to your life and the people in it. Practice gratitude. While a thankful attitude may seem hard to come by when you're pressed in by mortgage applications and home inspectors, remember that gratitude is about perspective. It's always possible to choose a positive perspective. To help yourself out, consider downloading a mental health app. You might try something like Headspace, Insight timer, or Isleep easy. These apps can systematize and automate your healthy behaviors.
While buying a house is never easy, it's worthwhile. Keep in mind that you're choosing both a home to love and an investment to protect. But mostly, remember that you're valuable and important no matter where you live. Enjoy both your new home and the process you take to get there.
This story was produced by Today's Homeowner and reviewed and distributed by Stacker Media.
---