Police arrest third suspect in Jefferson City shooting
JEFFERSON CITY, Mo. (KMIZ)
The Jefferson City Police Department arrested a third person after a shooting near a gas station at the roundabout at Jefferson Street and Stadium Boulevard on March 11.
According to a news release, an 18-year-old woman was taken to a Columbia hospital with a gunshot wound to the back.
The Jefferson City SWAT team arrested Dayjuan Crossland, 18, at a home Thursday in connection with the shooting, police said.
The release did not detail Crossland's role in the shooting. Online court records show Cole County prosecutors charged Crossland on Monday with accessory to assault, armed criminal action and accessory to unlawful use of a weapon.
Police previously arrested Leandre Williams, 19, and Jaquan Whirley, 17, in connection with the shooting.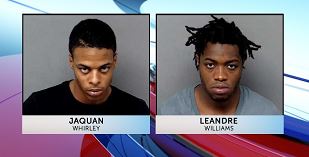 Police previously said Williams was placed at the scene of the shooting by GPS tracking data. Officers say he was under GPS monitoring as part of a pre-trial release for alleged crimes that happened in December 2019.
A probable cause statement in Williams' case said he and several others in an SUV followed the 18-year-old woman after she left a gas station. The woman allegedly told police she heard gunshots shortly after leaving and then reported feeling pain in her back.
Police said security camera footage from two gas stations nearby shows the SUV following the woman's vehicle in the roundabout at Jefferson and Stadium.
The court document said another person suspected of the shooting allegedly told police Williams fired at the woman.