TUESDAY UPDATES: White House state profile shows number of Missouri coronavirus cases up 12 percent
The latest White House state profile shows that cases are on a steady rise in parts of Missouri.
Last week Missouri's health department reported more than 4,922 new cases, which is up 12 percent from the previous week.
A Maries County has returned to the red zone for community transmission.
Boone, Callaway and Audrain counties remain in the orange zone. They are joined by Randolph, Cooper, Howard and Montgomery County.
All mid-Missouri counties are currently in one of the four transmission zones.
Boone County remains one of 12 counties in Missouri that has a high number of new cases in the last three weeks.
The University of Missouri receives new grant to test for COVID-19 in wastewater
A two-year, $4 million grant was awarded to scientists at the University of Missouri are collaborating with the Missouri Department of Health and Senior Services, or DHSS, to figure out how differing levels of SARS-CoV-2 can appear in a community's wastewater by the National Institutes of Health.
A professor in the Department of Molecular Microbiology and Immunology and an investigator in the Christopher S. Bond Life Sciences Center said Marc Johnson the research will focus on two main areas:
Determining a range of the amount of RNA from SARS-CoV-2 that an individual person can contribute to the level found in a community's wastewater.
What types of environmental factors contribute to the detection of SARS-CoV-2 in wastewater, such as situations where little or no genetic material is present despite known clinical outbreaks.
"In addition to measuring for the presence of the virus, we will now be able to start making sense of the numbers and expand the types of questions we can ask about the results," Johnson said. "I really think this type of testing will continue long after the pandemic, and I believe studies like this will be able to 'flush' out how the virus works by figuring out what we can do with it and identify our limitations."
With the recent rise of COVID-19 variants across the globe, or mutations of the original virus, Johnson said this analysis will also be able to help determine the presence of any COVID-19 variants.
"Once we convert the RNA to DNA, and then amplify the sequence to see where all of the major mutations are, we perform what we call 'deep sequencing' to figure out everything that is in there," Johnson said. "We know the virus can evolve around our immune response, so I'm sure we are going to see more variants appear than what is currently out there now."
Boone County reports fourth straight day of single-digit new coronavirus cases
The Columbia/Boone County Department of Public Health and Human Services is reporting three new COVID-19 cases.
There are currently 48 active cases in the county.
The county now has a reported total number of COVID-19 cases of 17,889.
The county has reported the total number of cases removed from isolation is 17,756, a 15 case increase from Monday.
The Columbia/Boone County Department of Public Health and Human Services dashboard has reported the latest five-day average as 6.
The dashboard is reporting the positivity rate of 11.7% for March 12 through March 18. The positivity rate for March 19 through last Thursday is 6.7%.
The county continues to trend down as there have been 61 straight days of single or double-digit case increases.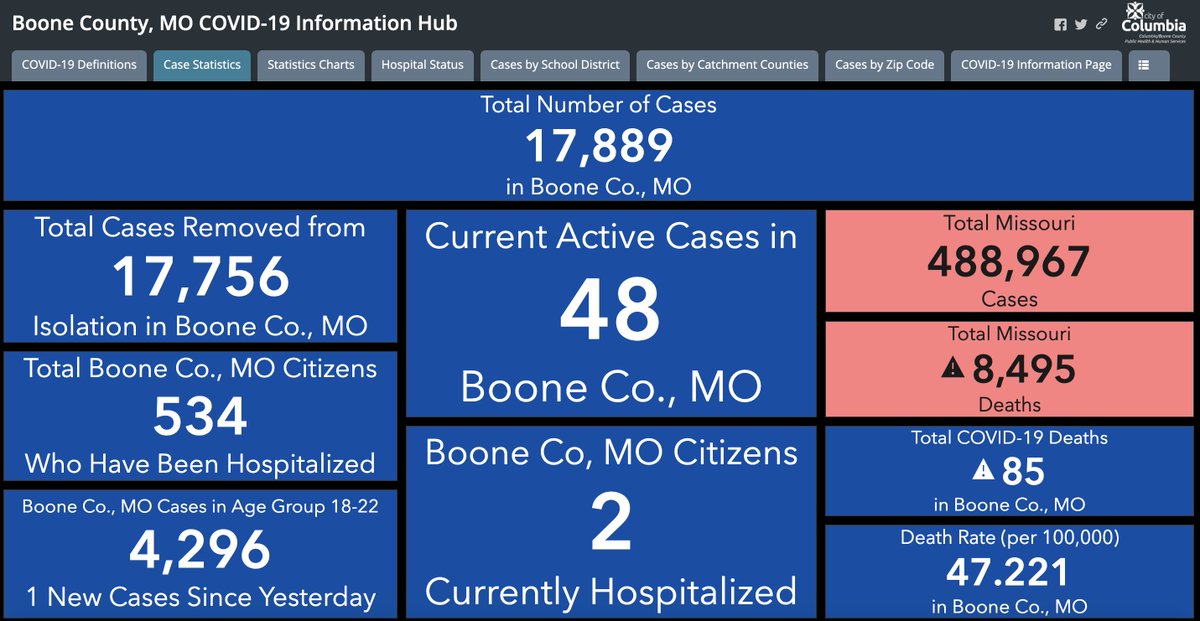 The health department is reporting the total number of hospitalizations in Boone County is 16.
The number of Boone County residents hospitalized is reported to be two.
The dashboard is reporting two COVID-19 patients in the ICU and no patients on a ventilator.
The hospital status remains in 'Green' status. 'Green' status is when hospitals are operating within licensed bed capacity; accepting patient transfers from referring hospitals within standard care operating procedures.
The State of Missouri coronavirus vaccine dashboard is reporting that 53,658 residents have received their first dose in Boone County.
The county has the largest percentage of people in Mid-Missouri that have received at least one dose of the vaccine with 29.7%.
Saline County has the second-highest first vaccination rate in Mid-Missouri with 26.7%. Cole County is third with 25.7%.
900,000+ Missourians complete coronavirus vaccination
More than 900,000 Missourians have completed coronavirus vaccination in the most updated data available on the state dashboard.
The Missouri Department of Health and Senior Services COVID-19 dashboard said more than 1.5 million state residents have initiated the vaccination process and that 2.38 million vaccine doses have been administered in Missouri.
Nearly 30% of Boone Countians have started vaccination, according to the dashboard. The data said 85,000 vaccine doses have been administered in the county.
State data all of the counties in Mid-Missouri had double-digit rates for residents having initiated vaccination.
Cole County - 25.7%
Callaway County - 21.7%
Howard County - 24.7%
Cooper County - 23.2%
Moniteau County - 19.2%
Randolph County - 17.8%
Miller County - 16%
Audrain County - 20.3%
Osage County - 19.8%
Chariton County - 22%
A mass vaccination clinic was being held in Moniteau County on Tuesday. The clinic still had open vaccination appointments and was allowing walk-ins, the county health center told ABC 17.
The state dashboard said 319 new COVID-19 cases confirmed through PCR testing were added to the state's pandemic total -- up to 488,967 on Tuesday. The data included that probable COVID-19 cases were up to 87,343, an increase of 224 from the day before.
Statewide COVID-19 deaths during the pandemic were reported at 8,498 on Tuesday -- 55 more from Monday.
The health department said in a release late Monday night that 58 more deaths had been confirmed through the weekly check of death certificates. It wasn't immediately clear when the three additional deaths would be added to the dashboard.
State hospital officials said 799 people were hospitalized and 142 were in ICU beds in Missouri because of the pandemic. Virus-related hospitalizations and ICU stays have fallen considerably since January.
Tuesday's ICU rate was the lowest reported since the pandemic started, according to the dashboard.
Hospital officials said the state had 33% of its hospital bed capacity still available.