FRIDAY UPDATES: CDC updates latest guidelines on what type of masks or respirators Americans should wear
The US Centers for Disease Control and Prevention updated its masking guidelines for the American public on Friday.
The CDC clarified that certain types of masks and respirators offer more protection from the coronavirus than others.
"Masking is a critical public health tool to prevent the spread of COVID-19, and it is important to remember that any mask is better than no mask," the CDC said in a release.
The updated guidelines recommend that Americans wear the most protective mask or respirator they can find that fits well and that they will wear consistently.
"It is most important to wear a well-fitted mask or respirator correctly that is comfortable for you and that provides good protection." the new guidelines say.
The information was last updated in October.
The updated guidelines include the following for masks and respirators:
When you are caring for someone who has Covid-19
When you're on an airplane or public transportation, especially for a long period
When you're working at a job where you come into contact with a lot of people, especially when not everyone else is masked
When you're not up-to-date on Covid-19 vaccines
If you have a risk factor for severe illness like a weakened immune system or a certain medical condition
When you're in a crowded public place, either indoors or outdoors
Boone County reports over 60% of new coronavirus cases are under the age of 30
The Columbia/Boone County Department of Public Health and Human Services reported 408 new COVID-19 cases Friday. The dashboard reports that 53 of the new cases were between the ages of 18 and 22 on Thursday.
Nearly two-thirds of the new cases (260) are under the age of 30 with the largest age group being 10-19 (104 cases).
There are currently 3,261 active cases in the county and 33,648 cases since the pandemic began.
The county reported 30,194 cases removed from isolation.
Boone County ranks sixth in the state with the most coronavirus cases in total volume in the past week and is first when sorted by cases per 100,000. Cases are up 89.8% when comparing last week to the prior week. The county has a 34.5% positivity test rate, according to the Missouri Department of Health and Senior Services (DHSS).
The health department's hospital status is yellow with 161 COVID-19 patients in Boone County hospitals and 12 of them being Boone County residents. Of the 161 patients, 34 are in intensive care and 22 are on ventilators.
The Missouri coronavirus vaccine dashboard reports that 116,116 residents have received their first dose in Boone County and 102,469 Boone County residents have completed their vaccine doses.
Boone County has the third-largest percentage of county residents in Missouri that have received at least one dose of the vaccine with 64.4%. The largest county in the state is St. Louis County with 68.8%.
Boone County is third in the state with a reported 56.9% of residents that have completed their coronavirus vaccine doses. St. Louis County is the first county in the state with 60.5% of residents having completed the doses for vaccination. The city of Joplin has 61.3% of the population fully vaccinated.
Cole County has the second-highest first vaccination rate in Mid-Missouri with 54.6%. Callaway County is third with 50.6%.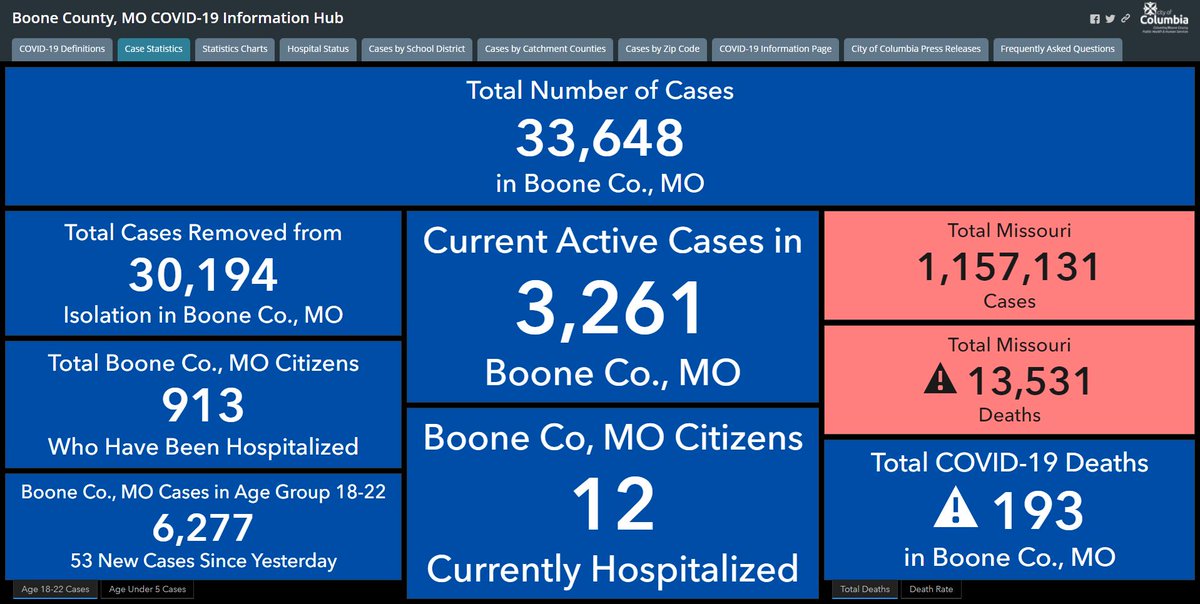 Cole County reports under 100 new coronavirus cases for first time in a week
The Cole County Health Department reported 91 new coronavirus cases Thursday.
According to the dashboard update, there are 13,833 residential cases and 303 long-term care facility resident cases. That is 14,136 total cases in the county.
Cole County has reported 174 coronavirus deaths since the pandemic began.
Cole County ranks 10th in the state for counties with the most coronavirus cases per 100,000 in the past week. Cases are up 117.4% when comparing last week to the prior week. The county has reported a 33% positivity test rate, according to the Missouri Department of Health and Senior Services.
The Missouri coronavirus vaccine dashboard reports about 54.6% of the county have initiated their first dose of the vaccine and 50.3% of the county's population have been fully vaccinated.
Capital Region postpones some procedures; Boone opens COVID-19 test site
Capital Region Medical Center said Friday that it is postponing elective endoscopies and surgeries to free up staff and bed space as the omicron-drive coronavirus surge continues.
And Boone Health announced that it will open up a dedicated COVID-19 testing site to help meet soaring demand for tests.
Capital Region -- a Jefferson City-based affiliate of MU Health Care -- said the postponement will begin Monday. Hospital staff will contact patients who need procedures rescheduled. The hospital has been hit particularly hard by the massive increase in cases and hospitalizations driven by the more transmissible omicron variant of the coronavirus. Hospital administrators told ABC 17 News this week that the virus has also sickened many staff members, who must then be away from work.
Boone Health said it will open a test site at its convenient care clinic at 900 W. Nifong Blvd. The clinic isn't operating and will be used only as a test site, the hospital said. It will be open every day from 11 a.m. to 6 p.m.
No doctor's order is needed to get a test but patients must be showing symptoms, Boone Health said. Patients will be required to wear medical-grade masks such as surgical masks and N95s.
MU Health Care is also opening up a new test site at Women's Hospital on Keene Street in Columbia to meet demand. Long lines have formed outside the site daily as more people seek testing.
Hospitalizations hit a new record Friday in Missouri, with more than 3,500 patients with COVID-19 in the state's hospitals. Omicron has now been detected throughout the state, and in some areas such as Columbia, it is the only coronavirus strain now being found in wastewater.
The omicron variant, which experts say can get around some vaccine protection, is also causing unprecedented numbers of breakthrough cases. Last week nearly 50% of new COVID-19 cases in Missouri were breakthroughs in fully vaccinated people, according to state data.
State of Missouri reports first drop in new coronavirus cases since Monday
The state of Missouri reported 9,904 new and probable coronavirus cases Friday.
The state of Missouri's daily average of new coronavirus cases has gone back up to an 8,503 seven-day average (59,522 confirmed cases from the previous week of reporting) as the state reports new coronavirus cases across the state according to state health department reporting. The daily average looks at the last seven days and doesn't account for the past three days, which will push that number even higher.
The state reported 7,549 new coronavirus cases through PCR testing and another 2,355 probable cases identified in antigen testing from Friday, according to the Missouri Department of Health and Senior Services coronavirus dashboard. Missouri has now reported 938,381 confirmed cases for the pandemic and more than 222,981 probable cases.
The state recorded 21 new deaths for 13,531 total and one probable death was added for a total of 3,078.
Missouri's new cases are up 17.7% over the past week, the state reports, as recent cases surge nationwide.
The rate of positive tests is 33.6% for the last week. A higher positivity suggests higher transmission and that there are likely more people with coronavirus in the community who haven't been tested yet.
Cole (3), Callaway (7), Pettis (9), Osage (19), Miller (20), Boone (21), Moniteau (29) and Saline (37) counties are all in the top 40 Missouri counties in new cases per capita over the last week, according to state statistics.
The state reports that over 4.82% (a .21% increase from last reported on Monday) of vaccinated Missourians have developed COVID-19 infections. The state is reporting 7,165 new breakthrough cases for a total of 161,228 breakthrough cases out of 3,342,812 fully vaccinated people. The state reported 36,852 breakthrough cases for the week of Jan. 2 which was over 48% of all new cases that week.
Experts continue to tout vaccination as the best tool to fight the wave of new cases.
Still, new vaccinations have effectively stalled in Missouri, with more boosters being given daily than first or second shots. The state reported Thursday that 54.5% of Missouri residents are fully vaccinated.
COVID-19 hospitalizations are also trending upward, with the state reporting 17% of total inpatient capacity and 15% of ICU capacity remaining. Those numbers are at 32% and 29% in Central Missouri, respectively. The state reported 3,526 COVID hospitalized patients, a record.
Columbia Public Schools to take three days off because of coronavirus cases
Columbia Public Schools will take three days off starting next Friday because of rising coronavirus cases, the superintendent said in a letter to parents Friday afternoon.
"Student and staff absences, as well as all other pressures, continue to increase. In preparation for the remainder of this variant peak, we are making adjustments to our current school year calendar to provide some relief for our schools and our staff," Superintendent Brian Yearwood wrote.
The district will be out Jan. 21, 24 and 25. Early release days will be added to the school calendar for Feb. 9 and March 9. The Columbia Board of Education will vote on the changes Jan. 20.
CPS reported Friday that 351 students have active coronavirus cases and 94 staff members have active infections. Yearwood said earlier this week that the absentee rate for students was about 20%. The district this week has only been able to get substitute teachers for about 45% of its teacher absences.
Yearwood announced Thursday that the district will also require masks for students and staff starting next week through Feb. 4 to slow down the spread of the coronavirus. The district returned to class this month after the holiday break with no mask mandate after the school board repealed it last month. The mandate had been in place since summer but the district had come under legal threat from the state of Missouri.
The Jefferson City School District also temporarily reinstated its mask mandate and other districts around Mid-Missouri have called or classes temporarily or gone online because of the rising number of cases stretching staff thin.
Boone County and the state of Missouri have broken records for daily case counts and hospitalizations several times over the past two weeks as the more transmissible omicron variant continues to spread across the state. The variant has now been detected in all areas of the state. The number of active cases in Boone County went over 3,300 on Thursday.
Omicron variant found across Missouri
Testing of sewage from systems throughout the state shows the omicron coronavirus variant is now present across Missouri.
And in some areas, such as Columbia, it has become the lone detected variant.
Sewage testing data from last week shows the variant has established a firm foothold as the dominant strain in the state. That dominance has come with record-setting levels of new cases and hospitalizations and sickened workers, leading to interruptions in services and hospitals scrambling to have enough staff. Unemployment claims jumped to more than 12,500 last week after the state received about 5,000 claims the week before.
University of Missouri researchers monitor wastewater from sewer systems around the state to see which coronavirus variants are present and at what level. Researchers say the viral loads in wastewater are good indicators of case-level trends in those communities.
Last week's data shows the omicron variant present across the state. In some urban area systems -- including in the St. Louis and Kansas City areas, Columbia and Sedalia -- the omicron variant is listed as the only one found in samples.
Delta and omicron were each present in systems in Ashland, Jefferson City, Fulton and Mexico.
The testing showed the virus continued to spread at unprecedented levels earlier this month in many areas, with Columbia and Jefferson City showing large week-over-week increases in the level of virus present in sewage. Columbia's viral load on Jan. 2 was about six times what it was to start November, according to the data.
Data is available in the frame below.
MU Health Care to move COVID-19 testing site due to high demand
MU Health Care says it is opening a larger COVID-19 testing site next week as demand for tests continues to increase.
According to a news release Friday morning, the new test collection site will be inside the east entrance of the Women's Hospital, located at 404 N. Keene St., and will feature more space to wait indoors.
The Keene Street site will also have expanded hours. It will be open weekdays from 8 a.m. to 5 p.m. and on weekends from 8 a.m. to 12:30 p.m.
MU Health Care says the new site will open Tuesday, replacing the current test collection site off of West Broadway.
ABC 17 News crews at the West Broadway site saw the line wrapped around the building on Wednesday.
People who have been exposed to COVID-19, have mild symptoms, or need a test to travel are able to get tested at the new location on a walk-in basis.
In its news release, MU Health Care said patients are required to wear masks and will receive their test results within 48 hours. Patients must also bring proof of insurance if they are insured.
Camden County Health Department closed through Wednesday
The Camden County Health Department and other government buildings will close through Wednesday.
According to the health department, the annex of the Camden County Courthouse and the Camden County Administration Building will also be closed to the public.
ABC affiliate KSPR in Springfield reports the closures are due to a staffing shortage and COVID-19 exposures.
Officials told KSPR scheduled court cases are still expected to happen during the closures.